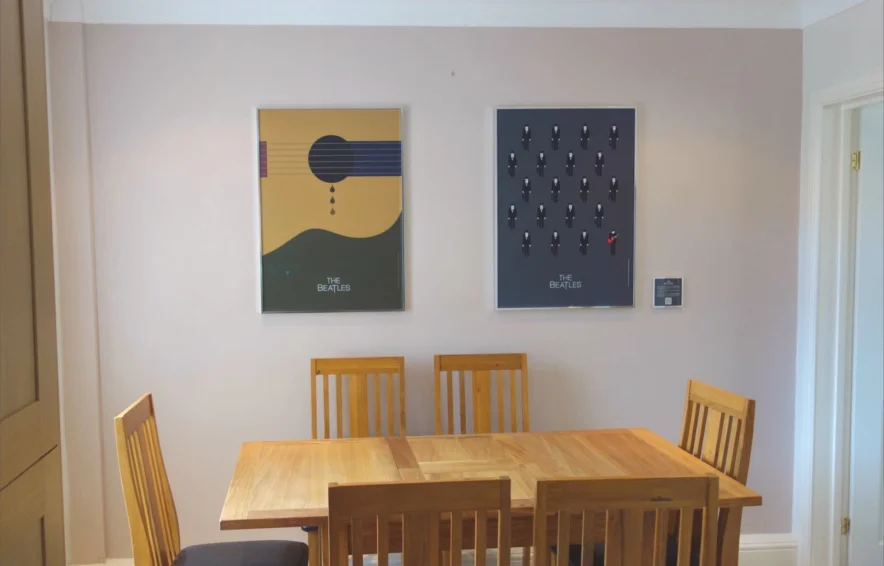 My artwork in George Harrison's Childhood home!
15 March - 2022
The home of Beatle George Harrison was bought recently by an American fan. The house is available to rent via Airbnb.  The owner contacted me through a Beatles Facebook fan site and has purchased two prints based on George's  compositions 'White my Guitar Gently Weeps' and 'Taxman'.
The property has been faithfully restored to how it was when George lived there from the age of 6 until he left home. Visitors are able to order prints through a QR code linked to this site. To enquire about staying in the house visit visit https://abnb.me/i6RBEd9Lpob 
Here is an extract from the Airbnb site:
Beatles and George Harrison superfans!

There is much in Liverpool to help you experience the Beatles, but nothing quite like this. 

The Harrison's lived in this terrace home from 1950-1962. They moved right as the Beatles were starting to gain stardom and success. This is a special place, located in a cul-de-sac residential neighborhood in Speke, just around minutes ride from Liverpool
Historic Bedrooms
Walk and stay in George's bedroom, where he first heard himself and the band on the radio! There's a comfortable double bed and a large closet.
His sister's bedroom features a single bed and a small closet, while his parent's bedroom is larger with another double bed. 

Bathroom
The bathtub features original taps from when George lived in the house!
Unique Experience:
Sit and strum a guitar in the same room that George, Paul, and John sat and rehearsed during the early years.

Listen to old Beatles albums, on our retro standing record player- within a Beatles home!

Re-imagine the famed picture from the front door of a young George heading off to play in an early gig for The Quarrymen.